Innovation and Transfer Day at Kiel University with Marine Research from Kiel
28.06.2023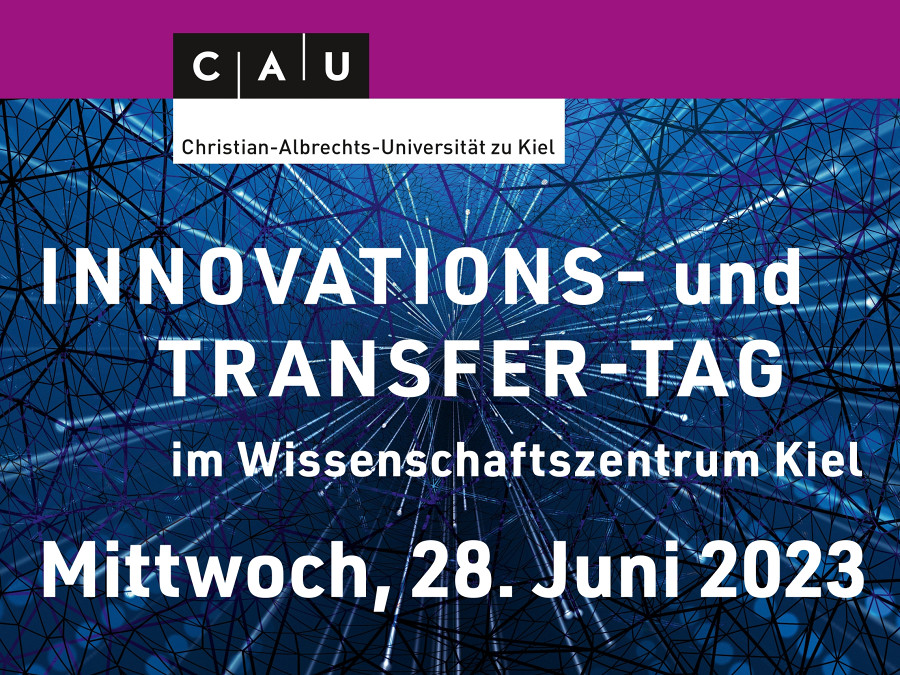 On June 28, 2023, Professor Eckard Quandt, Vice President for Research, Transfer, Scientific Infrastructure, Digitization, as well as the Business Unit Transfer with Axel Koch jointly invite to the first Innovation and Transfer Day at Kiel University. The priority research area Kiel Marine Science (KMS), representing more than 70 working groups from seven of the eight faculties of Kiel University, will also participate in the public event.
Marine research at Kiel University takes place at the human interface for the sustainable management of the ocean and its coasts, and is largely interdisciplinary. Together with the Center for Ocean and Society (CeOS), a KMS platform for transdisciplinary research with partners outside the university, KMS presents selected contents from the priority research area at the Innovation and Transfer Day.
The role of transdisciplinary research for innovation and transfer
Starting at 2:30 p.m., an experiential exhibition and pitches will demonstrate for internal and external interested parties how multi-faceted, diverse and successful innovation and transfer can be. CeOS director Marie-Catherine Riekhof, Professor of Political Economy of Resource Management with a focus on marine and coastal resources, will speak in her pitch on "Finding Solutions Together -The Role of Transdisciplinary Research for Innovation and Transfer."
Virtual tour on the research vessel METEOR
The virtual tour of the German research vessel METEOR allows visitors to take the helm themselves and gain an insight into what happens on board. Created by Dr Felix Gross and his working group at CeOS, the tour features impressive footage of laboratories, work on deck and videos of scientists.
Virtual exhibition on tipping points in "Humboldt Tipping Project".
The virtual exhibition "Tipping Points in the Humboldt Upwelling System", which was created under the direction of Dr. Frederike Tirre, presents the research area and the research results of the BMBF-funded project "Humboldt -Tipping- Social-ecological Tipping Points in the Northern Humboldt Current Upwelling System, Economic Impacts and Management Strategies". Visitors can digitally explore life in and around the Humboldt Current and the various ocean habitats in a 3-D model and playfully immerse themselves in the various topics of the "Humboldt Tipping" research project. The exhibition aims to convey a sense of the complexity of this important system and shows how tipping points could arise on the one hand and could be managed on the other.
Another exhibition presents the Blue Bioeconomy at Marine Sites (BaMS) initiative. The establishment of the BaMS innovation area has been funded by the BMBF with up to 20 million euros over five years until 2024. In addition to research projects, BaMS actively promotes the establishment of model sites and the sustainable implementation of project results in the economy and society. BaMS is strengthens the Blue Bioeconomy thematic group in KMS.
The entire event is free of charge and will take place at the Wissenschaftszentrum Kiel (Fraunhofer Straße 13, 24118 Kiel) from 2:30 pm until about 10 p.m. Registration is not required.
More Information:
---
Dr. Christian Wagner-Ahlfs